Dear Friend,
As we begin this new year, we want you to know we are so incredibly thankful for your ongoing support.
Without your kind heart and generous support, we would not be able to provide services to our neighbors who need help getting to their appointments, or assistance with life-saving mammograms, or the special garments and wigs to help with cancer diagnosis and treatments.
It is because of wonderful donors like you that we can instill hope in our neighbors and help patients feel whole again. Your support also helps us bring in the best and brightest cancer doctors to train and care for patients in this very place we call home.
We sincerely thank you wholeheartedly for being a part of the West Cancer Foundation Family.
We wish you and your family a wonderful 2023, and cheers to building a brighter future as we continue providing supportive care to patients, advocate for the health of our community, fund promising research, and so much more.
| | |
| --- | --- |
| Leighanne Soden, Executive Director | |
TOGETHER WE WILL GIVE HOPE
Cancer is relentless, but so is our commitment to helping cancer patients and finding the treatments of tomorrow.
With your generosity West Cancer Foundation can provide: 
TRANSPORTATION
Thanks to generous donors like you, we provide transportation to cancer patients who don't have a safe and reliable ride and can't afford to miss an appointment.
For many patients, radiation and infusion appointments are scheduled five days a week, for up to 10 weeks.
Unfortunately, far too often cancer patients miss their appointments due to lack of reliable transportation.  That's where we come in.
Through our pilot transportation program, patients can receive transportation assistance through grant funds thanks to the generosity of West Cancer Foundation donors.
If you or someone you love needs transportation assistance, visit our website by clicking the link below.
WELCOME RACHEL AND ARIEL!
RACHEL BROWN

Manager of Community Engagement and Outreach

As the Manager of Community Engagement and Outreach, Rachel's primary focus is to increase the number of women we serve through our breast screening program.

Rachel brings over seven  years of experience in direct community outreach and programming, most recently working with Shelby County Health Department COVID Response Unit where one of her many responsibilities was serving as a liaison between the health department and our Hispanic Community.
She also has experience with Le Bonheur Community Outreach where she counseled young adults in the African American and Hispanic Communities about HIV and sexual health.
Rachel received her B.S. in Health Education/Social Work from Middle Tennessee State University. She enjoys traveling, trying out the latest restaurants, along with spending time with family and friends.
ARIEL MACLIN

Executive Administrative Assistant

As the Executive Administrative Assistant at West Cancer Foundation, Ariel's primary focus is to provide administrative assistance and manage our Lymphedema Assistance Program and Post-Mastectomy Assistance Program.

Ariel is a Memphis Native and earned an undergraduate degree in Health Studies with a concentration in Health Sciences from the University of Memphis. During her last semester of college in the Spring of 2021, Ariel interned for West Cancer Foundation where her passion for healthcare In underserved communities grew.
While interning for West Cancer Foundation, Ariel contributed towards the launch of the Wig Boutique, Social Media Marketing and Engagement, in-kind donations for our annual West Fight On event, and other grants that were beneficial to our foundation and mission. In her free time, Ariel likes to journal and spend time with her loved ones.
Recently West Cancer Foundation Board Member and Ride 2 Rosemary cyclist Kevin Woods sat with Gina Neely on Action News 5 Bluff City Life and shared details about Ride 2 Rosemary and the mission of West Cancer Foundation.
Thank you, Kevin, for supporting the mission of West Cancer Foundation and helping spread awareness as we advance the fight against cancer. We are so grateful for all that you do!
JOEL KIMBROUGH
Joel is a founding member of West Cancer Foundation's Board of Directors, the retired Chief Financial Officer at Accredo Health Group, and has specialized in the financial side of the healthcare industry throughout his professional career.
A native Alabamian, having grown up in Red Rock, he received his BS in Accounting from University of North Alabama.  He began his career with the accounting firm of Ernst and Young where he advanced to the position of Senior Audit manager serving the firm's health care practice division.  In 1989, he accepted the position of Senior Vice President, Chief Financial Officer and Treasurer of Accredo Health Group, Inc., and its predecessor companies.
Since leaving Accredo in 2007, Joel has been a private investor and served as a member of several Board of Directors in a variety of companies.  In addition, he is one of the founders and directors of Veritas Collaborative, LLC, and Essential Health, LLC.  He has served on various non-profit boards including Regional One Health and The Make-A-Wish Foundation.  Joel is happily married to Melissa, they have four children and five grandchildren between them, and reside in Germantown.
"I would dare say, that everyone has been affected by cancer in some way.  Either directly or through your spouse, friend, colleague or family member, cancer has entered our lives.  I am involved with West Cancer Foundation so that in some small way, I may help lessen the impact of this dreaded disease.  We never know what challenge someone is facing in their lives.  West Cancer Foundation's goal is to help as many people as we can overcome these challenges."
West Cancer Foundation is a family affair for Joel.  His wife Melissa is serving on the 2023 Soul Soiree Committee.  We are grateful for the talents and time they donate to West Cancer Foundation!
LOCAL FIRE FIGHTERS DONATE OVER $30,000 TO HELP WEST CANCER FOUNDATION ADVANCE THE FIGHT AGAINST CANCER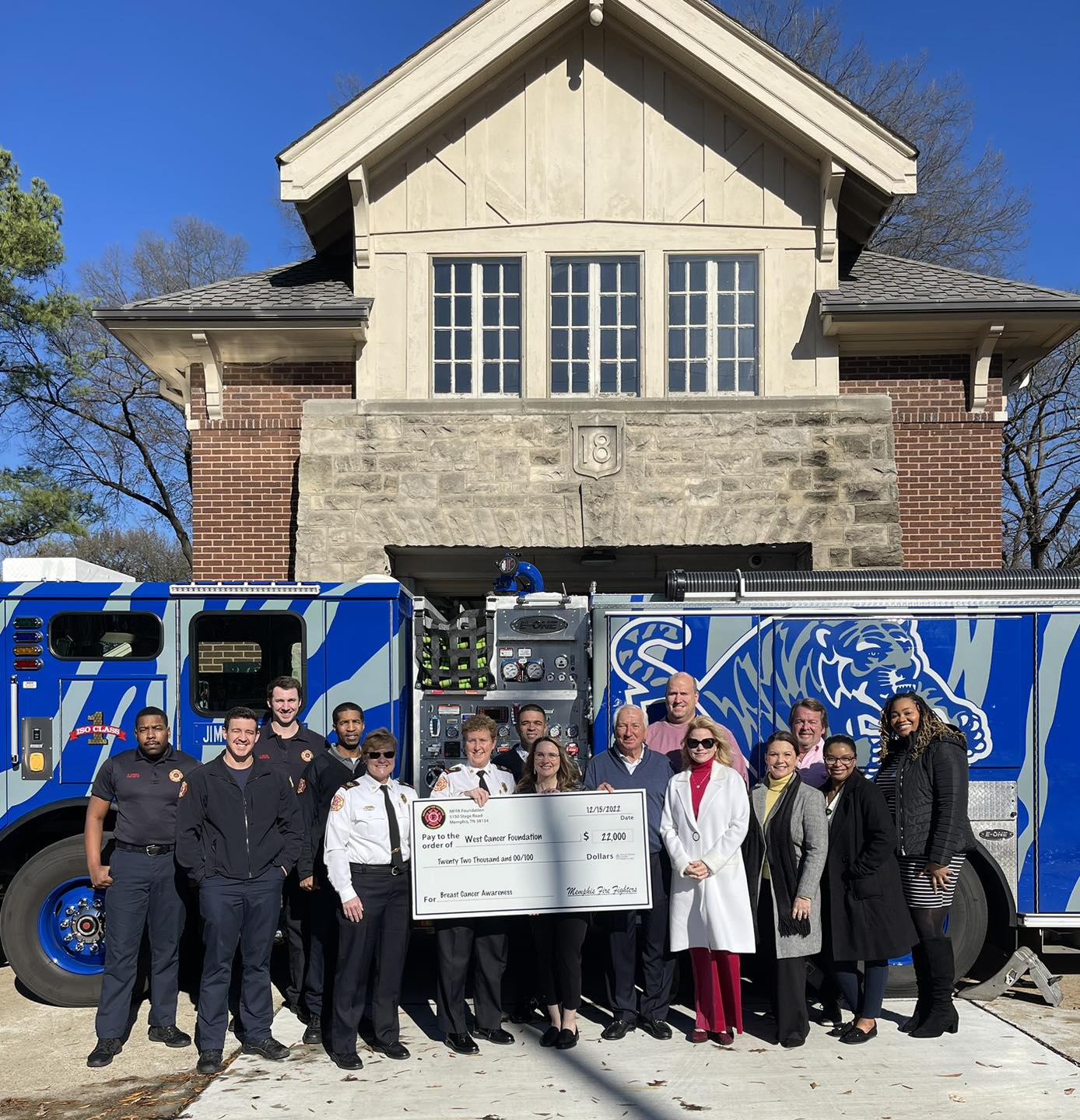 We are so grateful for the support of local fire fighters in the fight against cancer!
Memphis Fire Fighters Association Local 1784, Germantown Fire Department, and Bartlett Fire Department recently donated proceeds from Breast Cancer T-Shirt Fundraisers for a combined total of $31,638 to West Cancer Foundation.  West Cancer Foundation's mission is to break down barriers to cancer care through early detection, research, and resources for all cancer patients in the Memphis and Mid-South region.
Memphis Fire Fighters Association Local 1784 presented a check for $22,000 to West Cancer Foundation, Germantown Fire Department donated $2,638 and Bartlett Fire Department donated $7,000 this year to help advance the fight against cancer.
We are so honored and humbled by these gifts! These incredible public servants not only put their lives on the line every day when they go to work, but they also are helping us provide much needed cancer services to our friends and neighbors in the Mid-South who need it by fundraising and donating to our outreach programs.
GRANT & COMPANY BUILDERS . REALTORS JOINS THE FIGHT AGAINST CANCER
Recently staff members of Grant & Co. Builders · Realtors presented West Cancer Foundation with a check of $10,000 from funds raised through their Grant Fall Festival. This donation was made in honor of Kim Grant Brown, and we are beyond grateful!
Thank you to everyone who participated in this year's fall festival and for joining in the fight against cancer!💚💚
PLEASANT VIEW SCHOOL HELPS MAKE A DIFFERENCE
Recently the students and faculty from Pleasant View School presented West Cancer Foundation with a check for $2,304.20 from their Pink Fest Fundraiser for breast cancer awareness, and we are SO appreciative!
We'd like to give a special thank you shoutout to Ms. Tiara Morton and Ms. Katrina Morrow for their efforts in coordinating this year's Pink Fest.
BREAST CANCER ERADICATION INITIATIVE & PINK RIBBON OPEN HELP ADVANCE THE FIGHT AGAINST CANCER
Recently Breast Cancer Eradication Initiative / Pink Ribbon Open presented a $40,000 check to West Cancer Foundation in support of our breast screening, lymphedema, and post-mastectomy programs. We are so grateful for their continued support in the fight against cancer!
Pictured left to right is Rachel Brown, Community Engagement and Outreach Manager West Cancer Foundation; Keri Burnette, Operations and Donor Relations Manager, West Cancer Foundation; Jim King, Treasurer BCEI/Pink Ribbon Open; Cameron Spann, Board President, BCEI/Pink Ribbon Open; Jennifer Strain, Special Initiatives Manager, West Cancer Foundation
Be sure to follow us on social media to stay up to date with the latest news and happenings at West Cancer Foundation!
West Cancer Foundation's mission is to advance the fight against cancer through
research, education, patient support, and community outreach.
None of this is possible without the generosity and support of our community.
Together we are helping cancer patients today and funding the treatments of tomorrow.