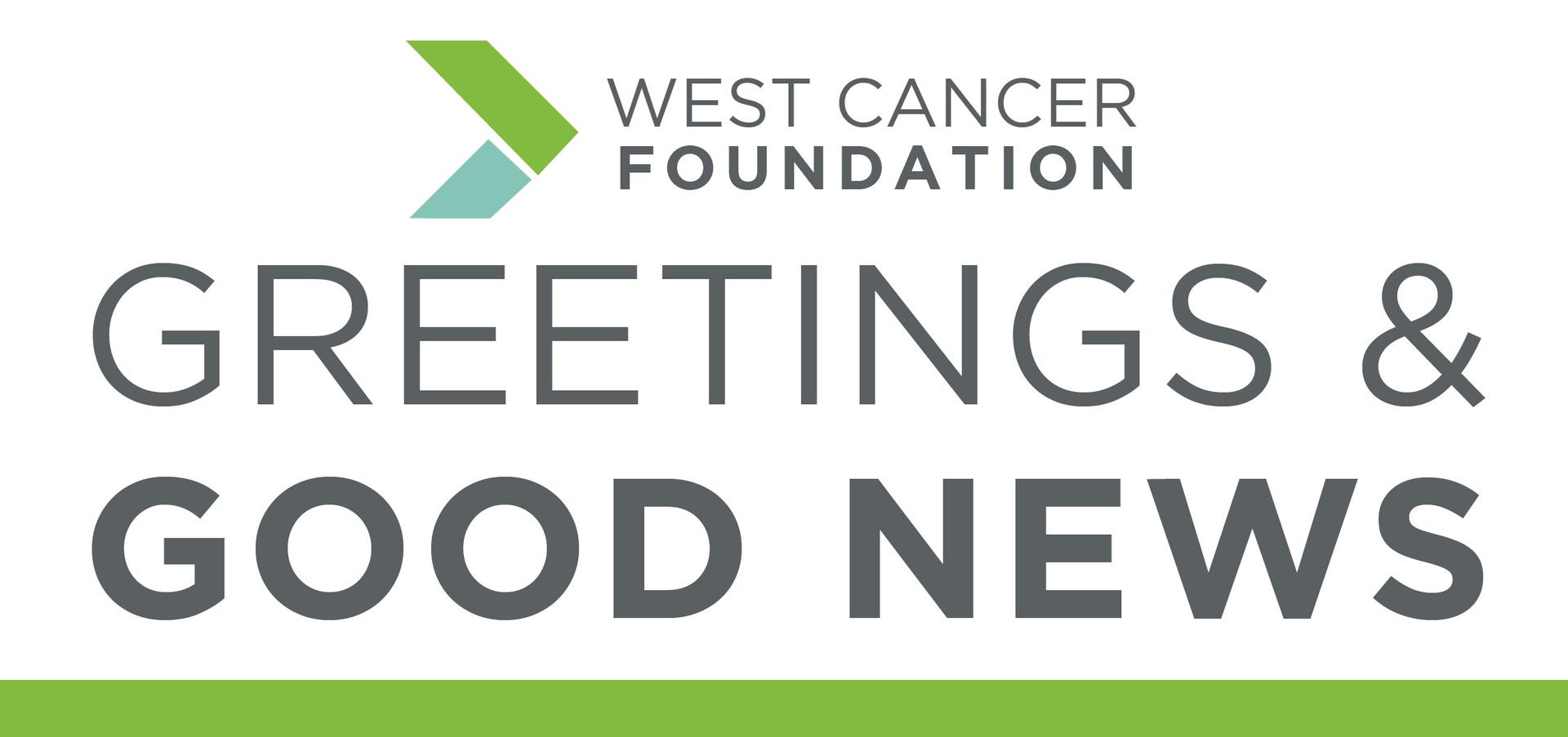 Dear friend,
What is charity?  It is defined as giving resources like time and money without expecting anything in return – and that clearly defines all of our donors and volunteers! Your selfless giving serves the most vulnerable in our neighborhoods and helps ensure we continue removing barriers to cancer care.
Charity also harnesses the power of community, and when we come together, we can make a true and meaningful impact. The power of community proves that when we all care and come together, change is more than possible!
And we are coming together!  As we move into the dog days of summer, your West Cancer Foundation Board of Directors, staff and volunteers are counting down the days until our signature fundraising event, West Fight On!  We are excited more than ever to be with all of you at Shelby Farms on Saturday, September 10th.  Your participation means everything and allows us to grow our outreach.
Because of your commitment to our mission, we are very proud to report we have invested over $1,600,000 in our community over the last 18 months!  Your generous contributions have funded programs for the underserved, research grants at the University of Memphis, and Oncology Fellows and Residents at the University of Tennessee Health Science Center.
With our partners at the University of Memphis, we are working side-by-side to ensure your precious gifts are truly making a lasting impact on cancer care, right here where we all live and work.
Won't you please join us as we Fight On?
| | |
| --- | --- |
| Leighanne Soden, Executive Director | |
HONOR A LOVED ONE WITH A ROUTE RECOGNITION SIGN AT WEST FIGHT ON!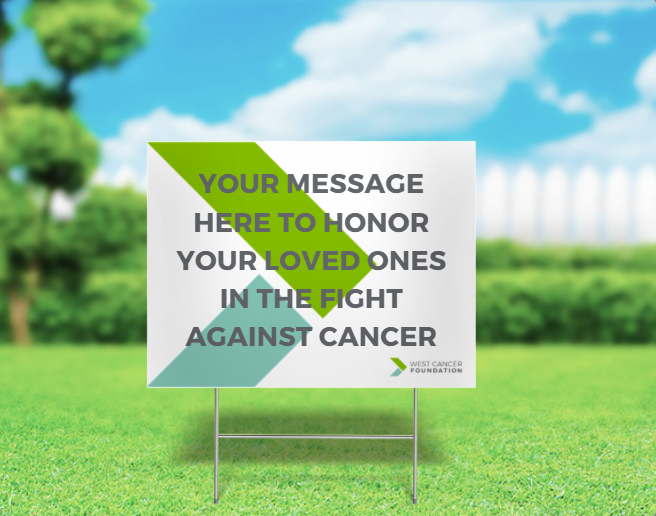 Recognize the ones you love by dedicating a Route Recognition Sign in their honor. For a minimum donation of $50 or more, West Cancer Foundation will print and display a yard sign with your message along one of the West Fight On routes on Sept. 10 at Shelby Farms Park.
Signs must be ordered by August 12. There is a limited quantity available, so order yours today!
BREAST SCREENINGS

Early detection is one of the best tools we have in the fight against breast cancer, and we are dedicated to ensuring that all women get their annual mammograms.

Our Breast Screenings program offers screenings and education paid for through grant funds to close the disparity gap in cancer care.

If you have not had your mammogram this year, or you know someone who needs a mammogram, please click the button for more information.
BREAST CANCER SURVIVOR STORY
We recently sat down with cancer survivor Neki Catron as she shared her journey with breast cancer with us and expressed the importance of early detection and regular mammogram screenings.
Click the button below to listen to her story and learn how West Cancer Foundation can help.
MARIAN LEVY
Marian Levy, DrPH, RD, FAND is Professor and Interim Dean of the School of Public Health at the University of Memphis. Dr. Levy received her doctorate in public health from UCLA, with a fellowship from the National Cancer Institute.
A Registered Dietitian and Fellow of the Academy of Nutrition and Dietetics, she has conducted numerous funded initiatives to reduce pediatric obesity, promote health equity, and provide environmental support for health. Since 2005, she has served on NIH special emphasis review panels for the National Institute for Minority Health Disparities.
"I am a native Memphian and have three wonderful children. I'm blessed to have three grandchildren, aged 5, 6, and 7, who keep me stocked in Girl Scout cookies😊.  Many people might know my brother, Dr. Joe Levy, an allergist.  We're long-time members of Temple Israel.
My passion for cancer control began many years ago when I received a fellowship from the National Cancer Institute for my doctoral study.  My background in behavioral science, nutrition, and public health came together to reduce cancer risk through prevention and early detection.
The West Cancer Foundation is committed to providing outstanding care for our entire community.  Its innovative research, community outreach, and caring support are extremely valuable.  I am proud to serve as a Board Member as we work to support and provide resources to underserved communities.  I'm also excited about the WCF partnership with the University of Memphis School of Public Health, as we conduct research to identify advanced therapies and treatments."
We are grateful to have such an asset as part of our board! Thank you for all of your hard work, Marian!
On Saturday, October 8, the Ride 2 Rosemary℠ team of more than 70 cyclists will once again depart for their annual five-day, 525-mile journey from Germantown, TN to Rosemary Beach, FL.
We are so proud of this amazing group of cyclists and cannot thank them enough for their generosity and commitment to raising awareness and making a difference in our community!
SOUTHLAND CASINO GAME CHANGER 
Southland Casino Racing's 'Game Changer" Initiative recently helped raise $37,349 for West Cancer Foundation, and we are so grateful!
"West Cancer Foundation is grateful for the phenomenal gift we just received. Southland Casino Racing's generosity will help so many in our community who don't have the means for breast screenings or reliable transportation to their provider. Neki Catron has been a gleaming light of inspiration to us and through her promotion of our work, I know we will broaden our outreach to those who need us the most," said Leighanne Soden, Executive Director of West Cancer Foundation.
CANCER RESEARCH WITH THE UNIVERSITY OF MEMPHIS
West Cancer Foundation's Board of Directors recently approved a grant to study the effects of depression on cancer patients. The $89,796 grant will examine the impact of depression on treatment decisions, treatment effects, and follow-up visit patterns all of which have the potential to impact mortality and cancer occurrence.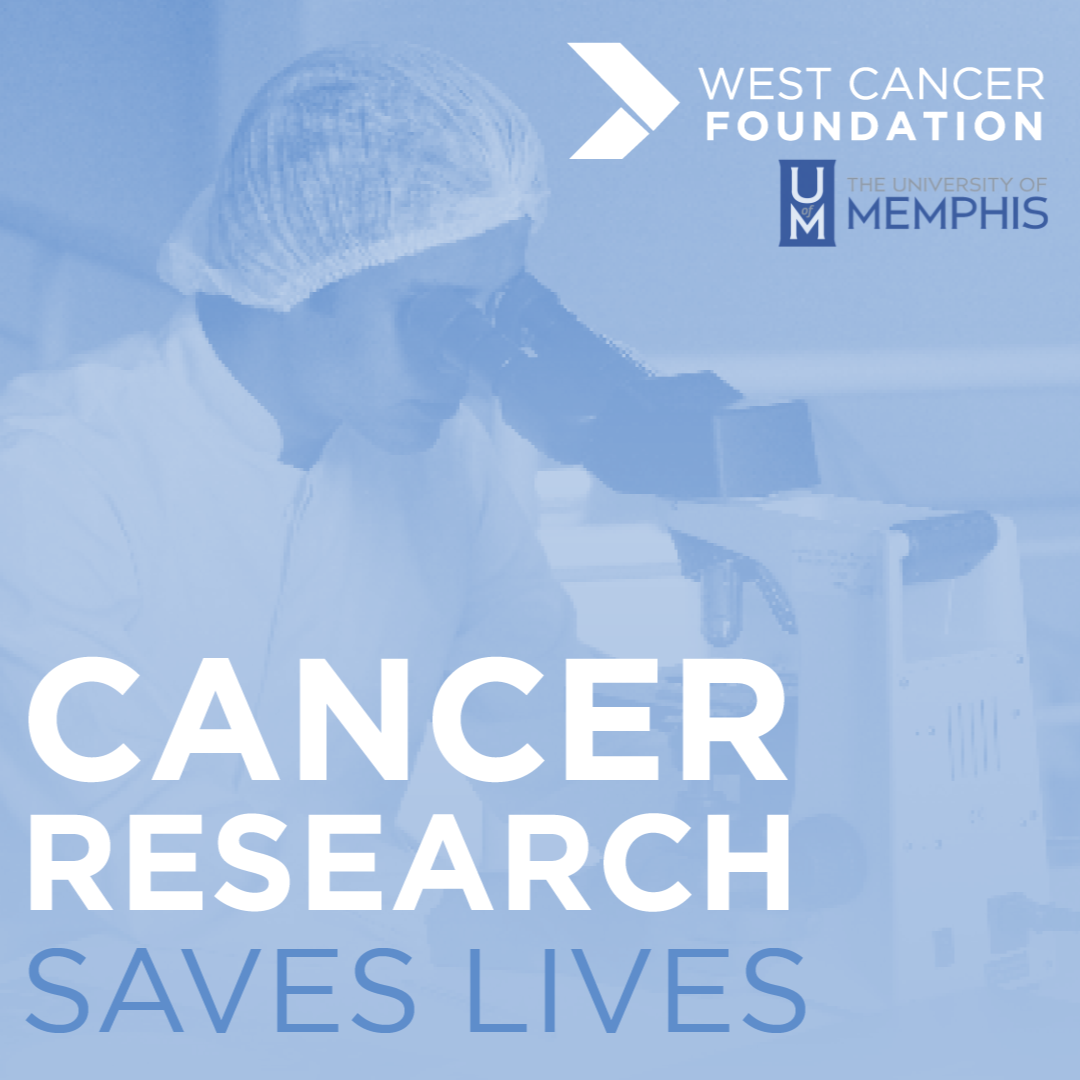 Dr. Susan G. Murrmann, co-chair of the Scientific Advisory Committee of the Board of Directors, is excited about this study and reported that Psilocybin "will soon arrive as a pharmaceutical grade compound for cancer-associated depression, and the study of this compound could be an excellent follow-up project to this grant."
"We are very excited about our growing relationship with the University of Memphis and their prestigious Carnegie R1 designation as a top-tier research university is a phenomenal accomplishment," said Leighanne Soden, Executive Director, West Cancer Foundation. "West Cancer Foundation is proud to fund some of the excellent research being conducted by the brilliant minds at UofM."
WEST FIGHT ON 2022 
We can't wait to come together for West Fight On! Join us on Saturday, September 10 at Shelby Farms Park for our signature event to help fund support programs for cancer patients and to help raise awareness and fight cancer disparities in Memphis.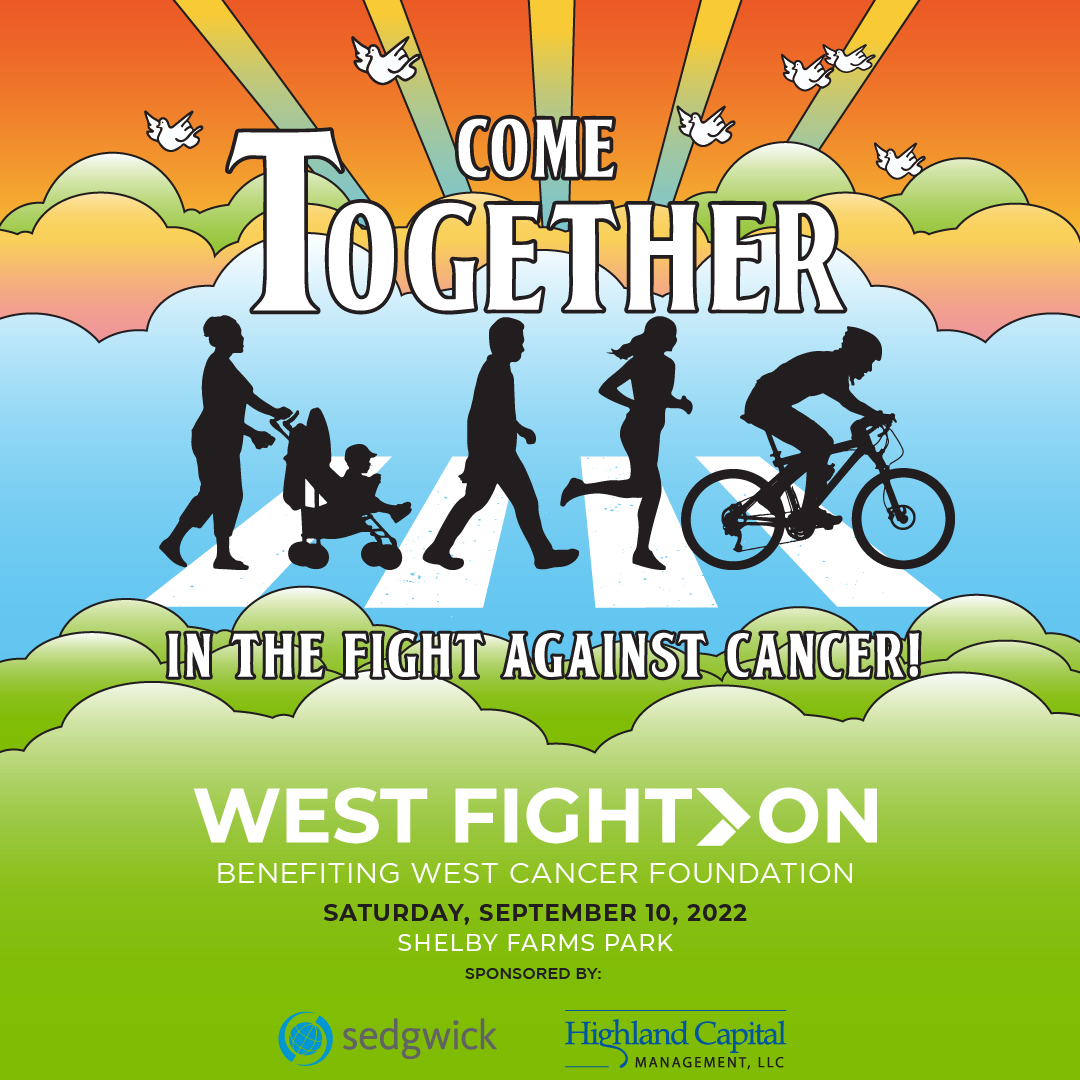 This signature fundraising event features three different cycling routes, a cycling and running combo, a 5K run/walk, and a one-mile tribute walk- or just come out and enjoy food, fun, and our Survivors' Celebration!
Sedgwick is the presenting sponsor for West Fight On for the sixth year and Highland Capital is the silver sponsor for the eighth year in a row!  We are so excited for everyone to come together in person this year as we make a difference in the fight against cancer!
To register to walk, run, cycle, or volunteer, please visit https://westfighton.org.
Roadshow BMW is a small locally-owned business in Memphis that supports fellow Memphians and highlights local charities and organizations with #RoadshowGivesBack.
Every month they support a different local charitable organization or nonprofit, and during the month of August, they will donate $25 to West Cancer Foundation for each test drive completed at their dealership. If more than 100 test drives are completed, they will double the donation!
Help us reach the maximum donation and support West Cancer Foundation by test driving a BMW at Roadshow BMW in August!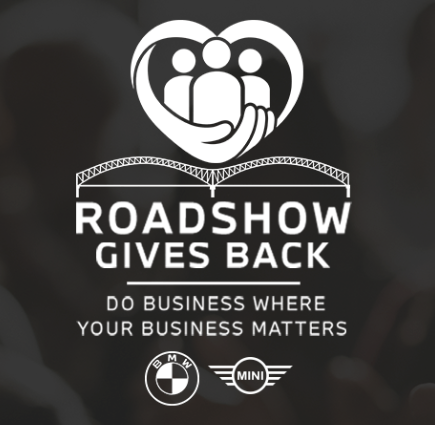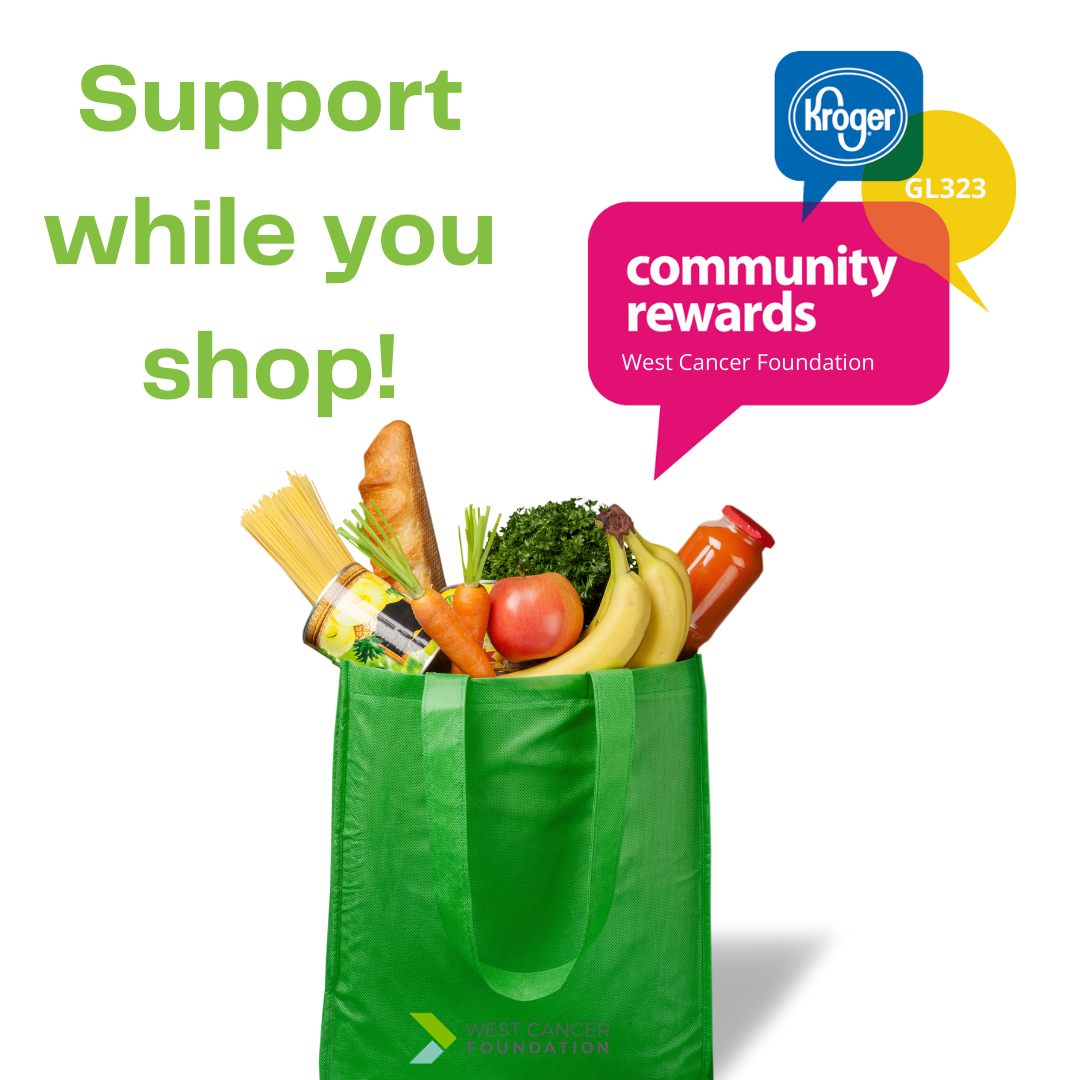 Great news: West Cancer Foundation is part of the Kroger Community Rewards Program, which means Kroger will donate a percentage of your spending to West Cancer Foundation. To participate, all you need to do is register your rewards card and shop!
Simply log into your Kroger account to enroll and search for West Cancer Foundation or our NPO number: GL323.
Step-by-step instructions can be found here: https://bit.ly/3Ieu8Bg
Thank you for your support, and happy shopping!
Be sure to follow us on social media to stay up to date with the latest news and happenings at West Cancer Foundation!
West Cancer Foundation's mission is to advance the fight against cancer through
research, education, patient support, and community outreach.
None of this is possible without the generosity and support of our community.
Together we are helping cancer patients today and funding the treatments of tomorrow.